Emotional Wellbeing & Mindfulness School Holiday Program For Children Age 5-9
---
Do you find your child is emotionally
and physically exhausted at the
end of the term?
Would you like your child to start the term
feeling relaxed, peaceful and calm?
If so, this Holiday Program is for you!
---
Course Information
School Holiday (3-Half-Days)
July 5, 6 and 7
Tuesday, Wednesday, Thursday
LOCATION
Cottesloe Primary School
Performing Arts Room
530 Stirling Hwy (cnr Keane Street)
Peppermint Grove
WA 6011
TIME
9am – 12 noon (for all dates)
EXCHANGE
$149 for the 3-day program
IMPORTANT NOTE
This is a drop and leave program. However, parents may attend upon request. Kids need to bring a nut-free snack for morning tea and a water bottle. A workbook and art materials are included.
---
About this Program
This holiday program has been created for children aged 5-9 to enhance their emotional wellbeing and teach them mindfulness techniques to better prepare them for the future. The program runs from 9am until noon on Tuesday, Wednesday and Thursday during the School Holidays. After the program your child will be relaxed, refreshed and ready for the holiday season!
Wellbeing and mindfulness topics and activities include: recognizing and managing emotions, yoga, art, craft, meditation and relaxation.
*No prior yoga experience is necessary.
Topics and activities within the program will vary from term to term so repeat students learn new skills each time they attend.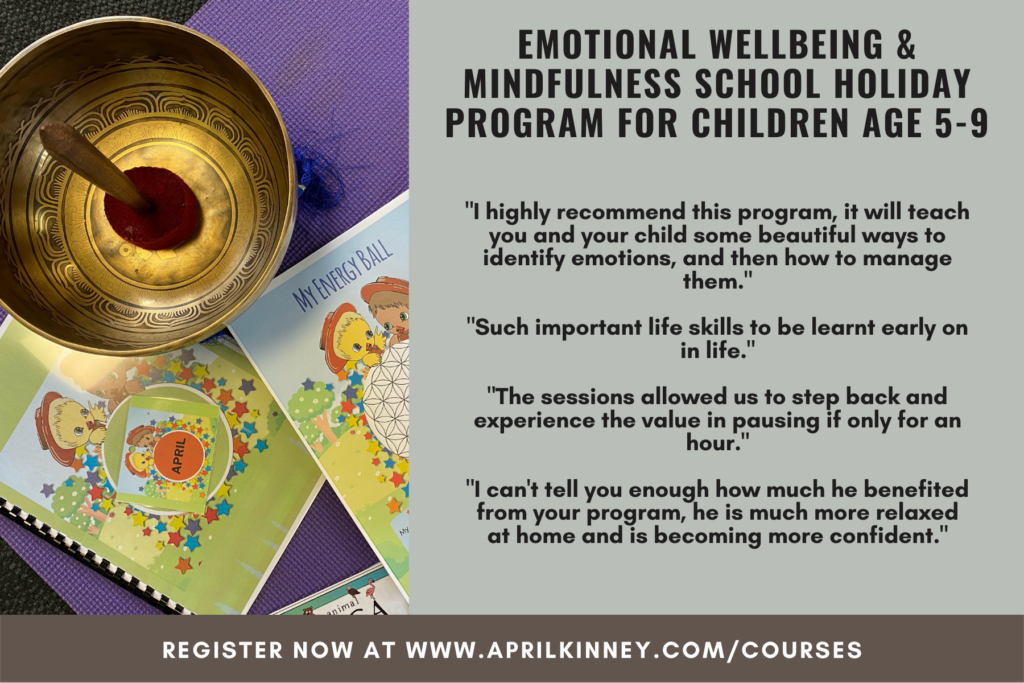 Course Enrollments Form and Payment
One form per child. If you are enrolling more than one child please select the options below for group discounts.
Please note: There will be no refunds for a missed class or cancellations due to materials bought. You can 'gift' the entire holiday program to a friend if you are unable to attend (individual classes can't be gifted).